Woodbee is visited by future of India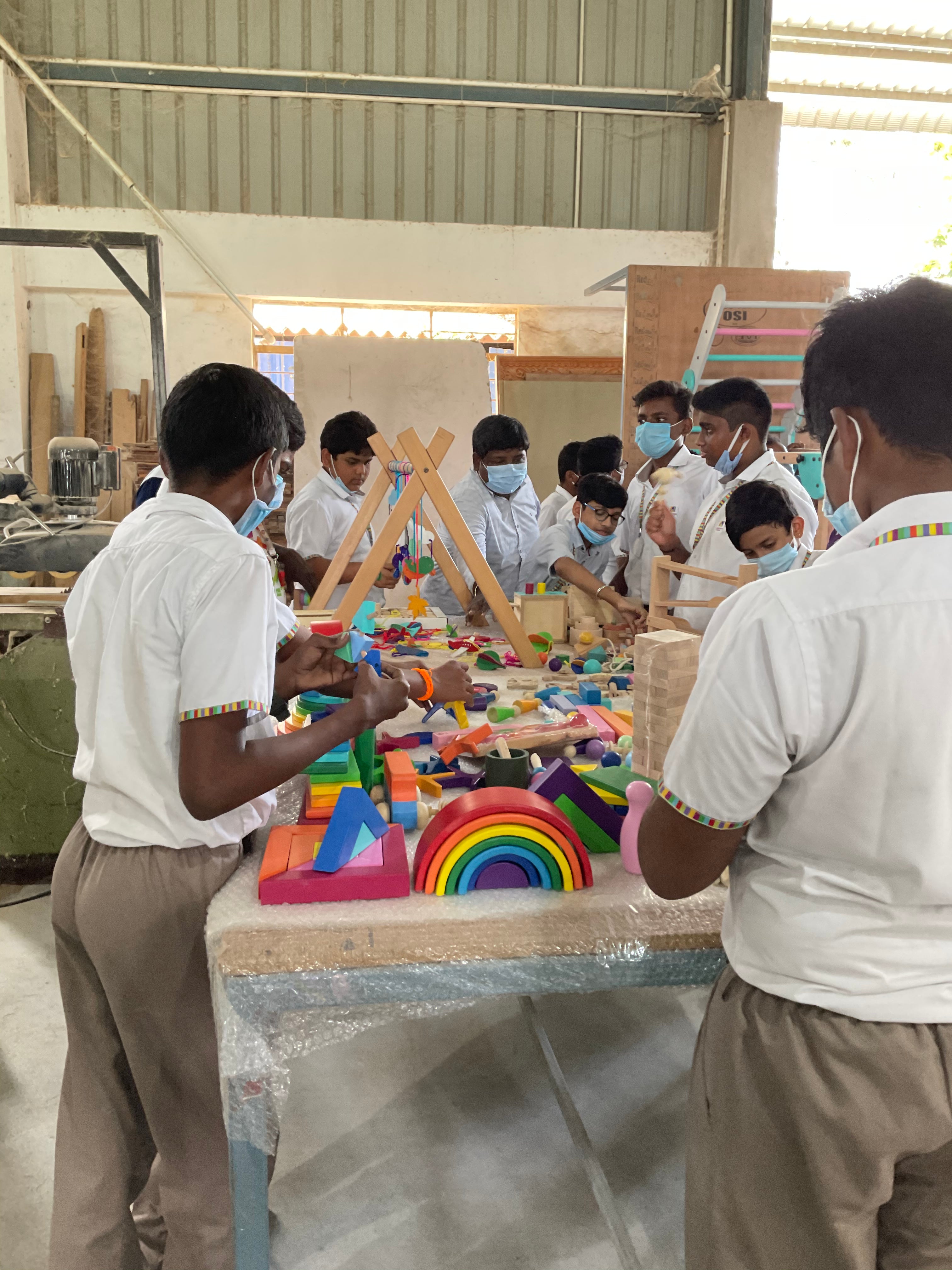 Woodbee toys factory is visited by school children in the district. Children are introduced factroy visits in addition to their CBSE curriculums particularly focussing on toys making and toys based learning. The atma nirbhar initiative is designed to encourage and promote home-grown toy industry with an aim to help India explore the rich heritage of locally-made toys. The toy fair conducted with boosting the indigenous toy industry in 2021 witnessed participation from NCERT, CBSE schools as a means of promoting play based learning. The urge to realise the importance of toys in education found a center stage in seminars conducted in the virtual toy fair. With this as the base, CBSE school spring days decides to bring their students for a real visit to our home grown toys factory situated near plush greeneries at the outskirts of our small town.
    The circular from government of India listed certain practices for all CBSE schools like ensuring teachers to attend webinars on toy pedagogy, toy-based education, etc. The government of India also encourages to take up Toy-based group-projects and link to Ek Bharat Shrestha Bharat paired State/UT as per the Circular No. Acad-33/2020 dated 14.05.2020. To educate the children on importance of toys, they also suggest to make 1 to 2 minutes videos at their school on how to use toys / games / puzzles / puppets / activities / board games / electronic games / etc. as a tool for learning in the classrooms.
It was a joyous experience for kids of eighth grade who visited in the first batch and subsequent summer visits being scheduled by the school management looks welcoming. They expressed their joy and pleasure in understanding the processes that go into making a durable, non toxic wooden toy. Children proactively asked questions to our technical experts regarding the sustainable sources of wood procurement, wood seasoning to render it non toxic. They were also taught on how certain processess like sanding, cutting, splicing helps in making a wood tangible enough to make into a toy. Kids were amazed and took to sanding using sanding papers lying around the factory. They also played with some of our toys like the jungle gym which are recommended for the higher age group as well. Children went on to inquisitively enquire and learn about our open ended toys collection and learnt the difference between montessori and waldorf basis for toys.
We beleive that this introductory session will go a long way in kindling interests of the kids in not only toys based learning but in enterpreneurship, the startup scene of their immediate generation and the overall hard work and technicalities involved in a simple toy that they come across in their play time. We are sure they will look at a toy differently and propogate the idea of Indian made toys when they grow up. 
Woodbee team looks forward to conducting more such toy workshops for many school children. Educating the future will go a long way in reaching the idea of sustainability at the background of a home grown business.