How does baby activity play gym and mobiles help an Infant's vision?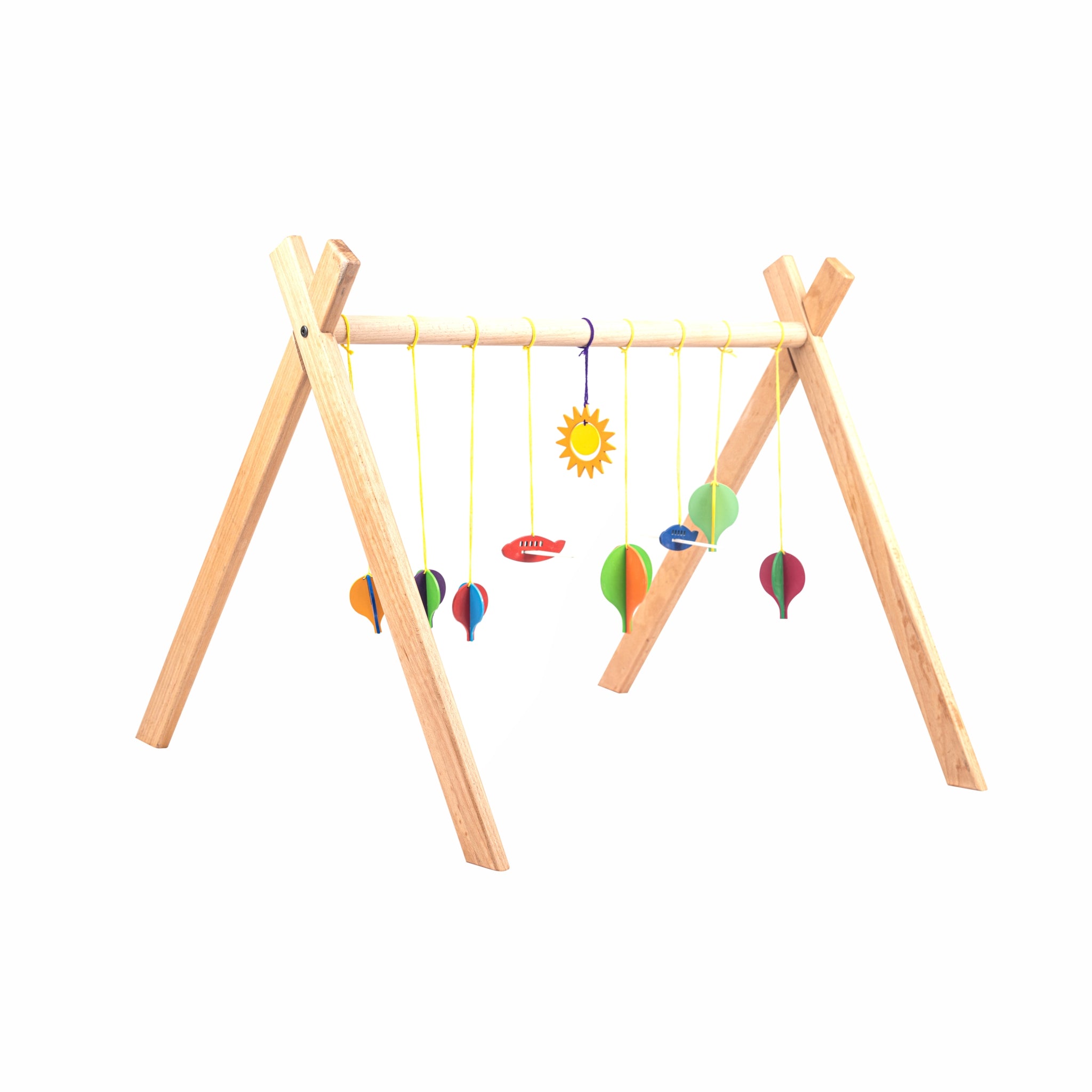 Little T was born in Sweden to Indian parents. With no immediate family to take care of the new addition to the family and the post partum mother, it was just the mother, father and the blossomed bud talking to each other at most times trying to understand the way parenting works. The first one month went in changing diapers, latching to the breasts, visits to the nurse, cribbing over the expenses that a days old infant can incur in the family. The second month, little T started looking around with her wide black eyes.She started looking at the roof, heater pipe, window screen and made her first smile. She started to recognise mumma and pappa when they were nearby. We thought it was too soon to introduce any dangling toy during her wake time but her vaccination schedule changed our perception. T kept looking at the ceiling mobiles hanging from the nurse's office on top of the diaper changing section. We realised that she has started seeing things and is trying to interact with her immediate environment. 
Thats when I felt that I must have packed our infant play gym and mobiles for T to enjoy. In literature, a baby starts visual fixation by 3 months at the earliest but just like the popular meme made out of pandemic babies, T started seeing and visually fixing things at the end of one month. Visual fixation at the early age is vital for early cognitive development that is seen developing from early to late infant stage and even upto childhood. Babies constantly develop their visual acuity(ability to distinguish shapes and details of objects at a distance), tracking an object, perception of colour, perception of depth etc. Upto 6 months a baby can see at a distance of 10 to 12 inches after which it constantly improves till it reaches the adult vision at the age of  4 to 6 years.
At fourth month, I introduced her to woodbee's play gym and the colourful mobiles. By then, she was able to look at primary colours and gave a sense of understanding and was stimulated to coloured objects. Immediately little Tara took to talking with the bird in the mobiles. Her absolute favourites were the bright and big sun, the bird and a yellow autumn leaf.I used to play with her by holding each object and naming it and describing it for her. It progressed into a little story time as T used to keenly listen to every word and was trying to grab every information like a sponge. It is also the ideal age for them to explore their senses as the first few weeks are very important for infants to develop contact with their environment.It helps invoke curiosity and wonder in the baby while helping a lot with fine motor skills and vision as well.
It helps the baby in reaching out to things, helps develop finger dexterity, grasp reflex, promotes hand eye coordination, develops sensory and motor skills. It can be a good and thoughtful gift for a newborn, baby shower and its a perfect way to welcome a new baby to the world, by teaching them how to see.